Meaningful gift giving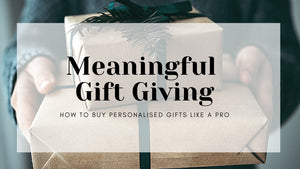 Considering that most of us "have it all" it is not easy to find a gift to anyone. When I am being asked what I would like to get for my Birthday or Christmas I literally have no idea, so I keep saying - "I would like to get some extra time and good health". Because this is what I really need. But also something they cannot give me. I do understand that people who love me want to give me something meaningful. This is why in recent years the idea of personalised gifts became quite popular. Gifts that are made for a specific person in mind are just more special than any ready made item you can get from the conventional shops. Such a gift makes a statement - I do care.
The Holiday season approaches again. It is so hard to believe that it is November already! In addition - in the time of the pandemic, being stuck at home due to some kind of a lock down - we are most likely to be doing our Christmas shopping online this year. 
To get the best personalised gifts on time, you should keep in mind a few rules I put together, so whatever you wish to buy - both you and the gift recipient will be delighted with the outcome.
#1 Planning phase.
Making a custom item takes time - you have to find a decent shop, the suitable product for the recipient and occasion, and think of a way to personalize it. 
Where to find them? You can ask google of course. You can check my shop at www.evagiftedhands.com or you can browse on Etsy - I am sure you will find plenty of shops - some even local to you - that offer personalised gifts. 
Then you need the time for a maker to produce your personalized gift. Always check the maker processing time to avoid disappointment.
For instance, my standard processing time even for totally customized items is 1-3 days. Quick isn't it? But I have seen shops that need 1-3 weeks to make something personalised - so please keep that in mind!
Then the ready item needs to be delivered to you or to the gift recipient directly. So you better check where the shop is based and check the delivery timeframe. Then add a week (or two) of possible delays. Remember the pandemic and Christmas.. and everyone else shopping online, that makes a lot of parcels to be delivered.
#2 Choose the right personalisation. 
A simple product such as a keychain may be made of leather, metal, wood, metal and glass, resin, textile, etc.
The personalization may be:
- stamped with initials, 
- featuring custom photo,
- engraved with a chosen phrase / date / initials / names
- featuring a map of a place - close to the recipient`s heart - example - where you have met, where he proposed, where their home is, where their heart is, etc.
- made in specific shape,
- made using your own thing - like drawing or fingerprint, lock of hair, etc
- embroidered,
- drawn or painted,
- designed and printed.
#3 Don't hesitate to ask a question

If you didn't find these information clearly stated simply ask. Send an email, use contact form or even make a phone call. 
- Is it possible at all?
- Can I see the proof before it's done?
- What is your turnaround time ?
- Can I upgrade the shipping ?
- How many characters can be engraved / embroidered, etc?
#4 Purchase phase. 

Choose an item you want and add it to your cart. 
Add your personalization request
- for custom photo things - upload your file
- for engravings, embroidery - add a note with your required text to be used
- for map items - add your required locations
#5 Check your email
Please remember to keep an eye on your mailbox including spam folder. In case of any problems - responsible sellers would always reach to clear any concerns and make the item you just can't wait to present to your loved one. 
I cannot emphasise it enough, we (makers and sellers) cannot fulfill personalised orders if we are not 100% sure what you want or if you like the options you chose.
To sum it up, one of the best places to buy customised gifts online is definitely www.Etsy.com (and if you are in a hurry just filter down to your country and 1-3 working days turnaround). If you think of a personalised map gift featuring a place you or the gift recipient want to commemorate - try my shop or if you feel more confident on Etsy you will find me there too. I also make  other personalised jewellery, so have a look!
And for the end, my few little recommendations for personalised gifts. 
#1 Ola rysuje bo lubi - link - personalised portraits
#2 MOKURAjewellery - link - personalised stamped jewellery
#3 Funnyrollingpin - link - cool rolling pins for those who love baking
1 Response
Leave a comment
Comments will be approved before showing up.