26 Eco-friendly Christmas gifts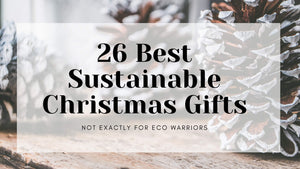 Finding sustainable gifts for family and friends who are not necessarily eco warriors just yet - can be hard (to say the least!).
If you are eco conscious - that's awesome, but you just can't change their mindset to be zero waste and vegans from the day one after Boxing day!
I have compiled a list of 26 gifts for open minded people on your list, who could try the fun of changing their lifestyle at least a tiny bit. Maybe try something new, maybe find a great quality in sustainable products.
Let's dive in! 
Hand-blown reusable glass water bottles are a sustainable and eco-friendly alternative to single use plastic water bottles. The bottle has a natural cork and silicone stopper held in place with a stainless steel ring to prevent leaks. Included with the bottle is a sustainably sourced charcoal filter for great tasting water. The bottle is BPA free and comes with a protective neoprene sleeve.
It looks cool, is useful, you don't drink plastic - good for you good for environment. Available here.
Sturdy reusable coffee cup with a resealable lid that serves as an alternative to the disposable cup. The cup is made of glass and the lid is made of BPA-free plastic. The lid has a flap to close or free the drinking hole. Cork band around the cup makes it easier to hold a warm or ice-cold cup. Just the same as with the glass bottle - good for you, good for the environment. But in this case scenario it would be a lovely little gift for a coffee lover. Available here.
Eco-friendly & ethically made cotton t-shirts - simple but cute tee shirts with lovely embroidery. I personally love the bee pattern and you will find more about the bees later on!. Available on Etsy. 
Totally cool, independent, ethically created using organic and fair trade cotton clothing that is super comfortable and stylish. I own a dungaree dress from them and it is one of the most comfortable clothes I have and it lasts. Great gift idea for a young adult - available from Lucy and Yak website
Having a writer in a family? Or at least an avid reader? Necklace made of real typewriter keys personalised with your chosen letter. Super cool and eco friendly jewellery gift. This elegant necklace can make a fantastic gift for a person with writing aspirations or a student. Available from this store. 

The WAKEbag rucksack is an 100% vegan backpack, made from poly paper fibres which are spun and then bonded together to create the look of paper, but with the durability and thickness of leather which gets better even with age. It's practical, waterproof, washable and is the perfect size for a tablet or small laptop, water bottle, coffee cup and lunch. It can make a fabulous gift for someone who is active and love fashion trends. Available here.

Very interesting cork accessories available from this shop on Etsy Cool wallet made of sustainably sourced cork. Cork is a fully sustainable and environmentally friendly resource, thanks to the unique nature of its gathering. In fact, cork is one of the greenest alternatives out there and is 100% natural, renewable and recyclable.
The Zero Waste Starter Kit is the perfect eco-friendly set for the aspiring zero waste beginner or for your eco-conscious friend. Available at La Pepa Boutique on Etsy You will find many more zero waste gift options there - so please feel free to browse not only for gifts but also your own essentials! 
Zero waste travel gift set, ideal to take on holiday or for weekends away. This thoughtful earth-friendly gift set contains all the travel essentials you will need and there's room to add a few more bits and bobs. As there are no liquids in this kit it should be safe to take on plane journeys in your hand luggage. Get it here. Lovely gift idea for an adventurer. 
Zero waste starter kit for men includes a soap for face and body, shaving soap bar, men's hair and body wash cubes, natural deodorant, natural loofah. Get it here. The start may be difficult for some but he will get these essentials - it may get easier. 
This elegant cufflink set can make a fantastic gift for a punctual man. Made of antique Swiss watch movements, their impression is worth more than a thousand words and you can be sure they will be treasured forever. Available here. They are repurposed from watchmaker's oddments. 
Bike wheel clock that makes a statement, this is the cyclist gift for anyone who loves industrial decor. Available on Etsy in many varieties, but you can see the point here. This is a decent piece of repurposed scrap, good for the environment.
What a cool idea of making photo frames using reclaimed weathered casks. We have one and I must say it brings the attention of our guests. Such a frame makes a truly unique home decor for whisky loving individuals. Available on Etsy.
Extraordinary dangling earrings made of real, repurposed antique fountain pen nibs. They are very lightweight and classy and the shape is totally unmistakable. These earrings can make unusual gifts for a woman with writing aspirations, published author or a teacher. Available right here.
Alice & Peg's new beauty gift set is full of natural and eco-friendly products, all handmade in the UK by some of our most loved brands. Designed to uplift, revitalise and nourish, this beautifully presented letterbox-friendly gift set features uplifting bath salts, a natural body buff, gorgeous soap bar, a brightening face mask and a wonderfully nourishing face oil. A thoughtful gift perfect for any occasion. Buy here.
Luxurious soaps. Made with organic oils and butters and ingredients you can pronounce, you can feel good about using this soap for all of your skin needs. This luscious essential oil blend combines with rich goats milk and good-for-you butters like shea and coconut oil. Get them for yourself and for your loved ones here.
Banksia aroma pod will soak up your essential oil and fragrance your room for weeks, and can be refilled to keep your space smelling beautiful. It is crafted from the iconic and uniquely Australian Banksia seed pod. They are a great natural freshener for any space. Find out more. Such a unusual thing can make a lovely gift for a home-bird. 
This rainbow washcloth, ideal for bath or kitchen use, to scrub, wash, and clean! They are nice and useful. Can make a perfect gift for a hostess, housewarming, nursery, stocking stuffers! And of course - you can get some for yourself if you are short of washcloths - I can promise you - they last for long. Find them here.
All of Symbology's products are made by hand by women artisans who use traditional art techniques. The handmade process allows the company to work hand in hand with local artisans and small factories, creating jobs and sustainable incomes around the world. Get the duvet and many other housewares from here. 
Great gift for bread lovers. Storing a loaf of bread in a linen bag leaves you with bread that stays fresh longer. Unlike plastic, which turns bread tough and soggy, linen lets the bread breathe. This means, your crust is still crisp and the inside of the loaf stays soft and fluffy. Available on Etsy. 
Fabulous cook book published by Riverford, the leading organic fruit and veg producers company. It will add a sparkle of a plant based cooking that is the opposite of boring "eat your greens". The book is great for vegetarians but also for beginners who want to only reduce meat in their diet. You can buy it on Riverford website
Very giftable handcrafted bowls made from recycled magazines and can be used in a variety of ways. They can serve as fruit bowl, a trinket holder, change holder, jewelry holder, or just simply add to any room and house decor! You can buy it on Etsy.
Cool washable paper baskets made out of natural cellulose fibre, green and renewable resources - very sturdy material and yet flexible to roll the edges to desirable height and reveal the paper pots beautiful copper lining inside. Available here. The perfect gift for a plant lover to create an urban jungle. 
Kids will love this set of seed bombs that create guerilla gardening fun, allowing flowers to grow where there is bare soil. Made from biodegradable materials, it won't be long until all that is left are some beautiful blooms. You can find them here. Good for gardens and bees!
Plantable seed notebooks - 100% compostable and the cover has been embedded with five varieties of native British wildflowers, all classified as 'plants for pollinators' 
The 40 internal pages are lined recycled paper, with planting instructions printed on the final page. Available to buy on Etsy. These can make a great stocking stuffer for anyone who has something to write! 
The last bit is for garden and wildlife enthusiasts. The birdhouses have been crafted from recycled timber, sanded and polished with Australian made beeswax. Would look great on a patio, wall, in a window or garden, Perfect for someone who wants unique, beautiful art in their garden that is useful and wildlife friendly. Available to buy on Etsy.
This is the end of my list of Christmas gifts that are sustainable and eco-friendly and may be useful or at least nice for ones we love. We would like to see them more caring about our environment and the future of the next generations. 
With the coronavirus restrictions online market is booming which is against shop local campaign, but in these circumstances - shop as sustainable as possible may be more realistic if you want to have something special for people on your list. 
If you like my selection of sustainable gifts - please feel free to join my newsletter to keep in touch and maybe you will be happy to see more of my selections! 
Leave a comment
Comments will be approved before showing up.